Welcome....Robseane is situated in the very picturesque area of Nairne in the Adelaide Hills. We are surrounded by rosellas, parakeets, galahs, wrens and a myriad of other birdlife. There is always something for our cats and dog to watch.
I have been breeding Siamese cats for over 30 years, with my husband. We started breeding blue points while living in Brisbane, but by the time we returned to South Australia, 3 years later we were hooked on the Tabby Points. We were able to get an adult female, Lai-Lyn Lynx Knedra who seemed to have had no fixed abode for two years. Knedra, a blue tabby point, lived with us for 18 years and all our tabby points are related to her.
We have bred many Best of Breed and Best in Shows, but the most pleasure I get still comes from receiving a Breeders Award.
I was a member of the original Steering Committee that formed the Feline Association of South Australia in the early 1970's. I am now a past President of the Feline Association and the Siamese Cat Club SA, but am now a member of the Siamese Cat Club SA committee.
I hope you enjoy your wander around our little web site and would like it if you could leave a short message in our guest book which you will find below the parakeets, to let me know that you have passed by.

Anne & Joe Fanning
Phone: (08) 8388 0834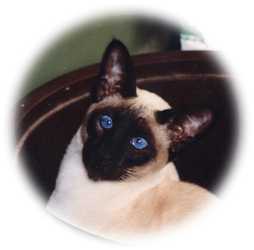 Web Site Design by Annela